On March 10, a "red shadow play" premiered in Baiyun Village, futianpu Township, Hengshan County, Hengyang City, Hunan Province. Hengshan County fully tapped the red resources, put the party history story on the shadow puppet stage, changed the indoctrination of theory into story infection, and made the winter and spring training of Party members live.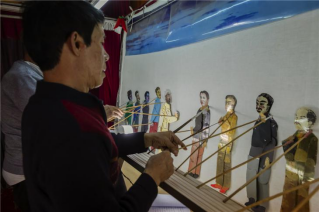 Light and shadow interlaced, and the wonderful performance won bursts of applause from the audience. While feeling the charm of intangible cultural heritage, Party members reviewed the red story in futianpu Township, Hengshan County. "This year's winter and spring training for Party members brightened my eyes and showed our familiar classic red stories in the form of shadow play. In the shadow play, I can deeply and intuitively feel the hardships and difficulties of the revolution." Said Zhao Dongmei, a 78 year old veteran party member.
It is understood that Nanyue Hengshan shadow play, as a part of "Chinese shadow play", was listed in the list of representative works of human intangible cultural heritage by UNESCO in 2014. It is the only world intangible cultural heritage project in Hengyang. The county combines the winter and spring training of rural Party members with Chinese traditional art, realizing the transformation from static to dynamic, from old-fashioned to fresh, enhancing the intuitiveness and interest of learning, allowing party members to receive party spirit education in fun, further strengthen their ideals and beliefs in the traditional baptism, and build a solid ideological foundation.
---